Active Status:
Active
Project Phase:
Limited Market Availability
User:
Female
Mode:
Non-hormonal
Delivery Method:
Barrier
Duration Type:
Pericoital
Description:
A female condom made of natural rubber latex, Cupid2 has an octagonal outer frame and is inserted using a medical-grade sponge which also holds the condom in place during use. It is pre-lubricated with silicone oil and has a shorter pouch and thinner sponge (as compared to Cupid1).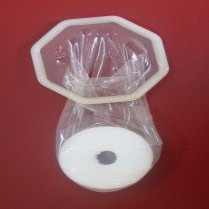 Print
Product details
Inactive material:
latex
Potential Multi-Purpose Technology (MPT):
Yes
Regimen:
single
Duration:
Single use
Developer:
Cupid Ltd.
Status
Status Details:

Approved by Indian regulatory authorities. Marketed and sold in India.
Seeking WHO PQ
Showed clinical failure rates <5% in crossover controlled trial with two other female condoms.
Additional Information
Additional Information:

Cupid Ltd. website: www.cupidlimited.com/

Beksinska M, Greener R, Kleinschmidt I, Pillay L, Maphumulo V, Smit J. (2015). A randomized noninferiority crossover controlled trial of the functional performance and safety of new female condoms: an evaluation of the Velvet, Cupid2, and FC2. Contraception. 92(3):261-267