What is Calliope? 
Calliope, the Contraceptive Pipeline Database, includes information on potential contraceptive targets and leads in early development, products in pre-clinical and clinical development, and a selection of novel and long-acting products with limited market availability.  
The contraceptive products and targets in Calliope can be viewed in two ways:
By the phase in the development pipeline, meaning where the product or target is development organized into three phases: Targets & Early Development, Pre-Clinical & Clinical Development, and Limited Market Availability; or
By user sex and type (hormonal/nonhormonal) in a table format  
The project phases and stages used to categorize contraceptive targets, leads, and products within Calliope are summarized below.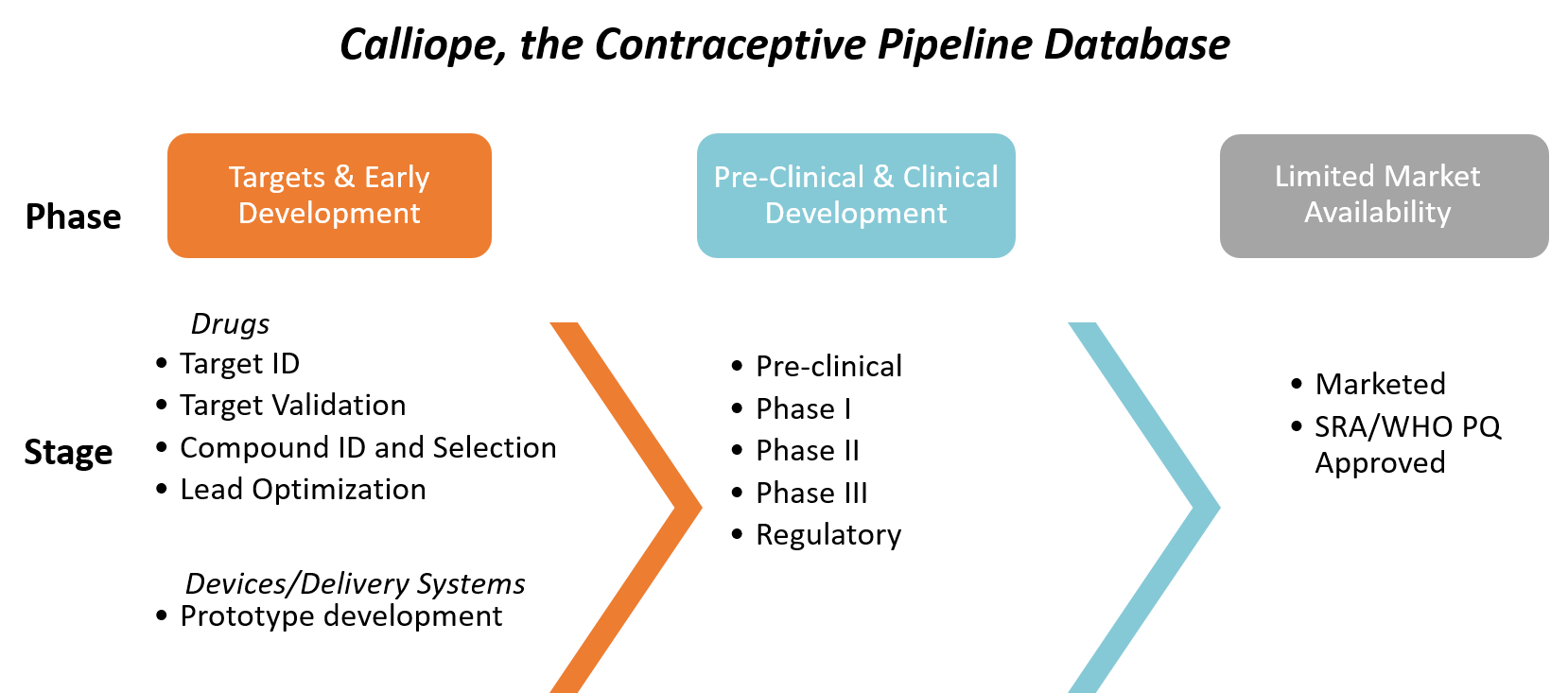 The Targets and Early Development phase includes known and potential biological targets for which compounds, and eventually products, could be developed. Targets are indicated in the database by a target icon. Early stage leads that with known biological targets are included here as well. Where relevant, entries for leads and products are cross-referenced to their respective target(s). Contraceptive leads and products that have not yet entered pre-clinical testing, including those undergoing prototype development, are also included in this phase.

The Pre-Clinical & Clinical Development phase includes products that have begun pre-clinical research, through clinical studies and regulatory review.

The Limited Market Availability phase comprises a selection of products already marketed in at least one country or which there is the potential for wider distribution in low and middle-income countries. This includes products that have recent approval from either a stringent regulatory authority (SRA; the U.S. Food & Drug Administration or the European Medicines Agency) and/or the World Health Organization Prequalification program. The focus is on long-acting and novel products. Oral contraceptives, unless they represent a new technology or active pharmeceutical ingredient, and male condoms are not included. 
Calliope includes products and target that are both in active development and those that are current inactive; however, the focus is those actively being worked on, and it is not intended to be exhaustive in the inactive category. This categorization applies mostly to the products in pre-clinical and clinical development.
Audience
This database has been developed to meet the informational needs of contraceptive researchers, program managers, policymakers, procurers, and, at times, providers. Calliope is not intended to provide medical advice for patients learning about their contraceptive options. Please tell us who you are by completing our user survey.  
Who We Are 
Calliope, the Contraceptive Pipeline Database, is coordinated by FHI 360 under the Contraceptive Technology Innovation (CTI) Initiative with support from the Bill & Melinda Gates Foundation. It is a part of the CTI Exchange, available at www.ctiexchange.org.
Updates 
Information is up-to-date to the best of our ability. If you have additional products to add, or updates to existing products, please contact us at calliope@fhi360.org. If you are responsible for an entry in the database and have received log-in information from us, please use the log-in button at the top right.
Disclaimer
The information provided on this website is for educational and research purposes. It is not intended as medical advice for patients learning about their contraceptive options, and should not be used for purposes of medical diagnosis or treatment, or as a substitute for medical advice from qualified medical professionals.
While we strive to ensure that the information provided through this website is accurate and up to date, the information is provided "as is" and we make no representations or warranties of any kind, either express or implied, as to its accuracy, completeness, reliability, timeliness, or effectiveness. Any use of or reliance on the information is strictly at the user's own risk. We disclaim all liability or responsibility for any loss, damage, injury, or harm arising from the use of or reliance on the information.
Links on this website to external Internet sites are provided as a convenience and for informational purposes only. They do not constitute endorsement or approval by us of any products, services, information, or opinions offered on the external sites, and do not establish or suggest any association between us and the sponsors of those sites. The mention of any specific companies, products, or services on this website does not constitute endorsement or recommendation by us.